Why Wing Chun?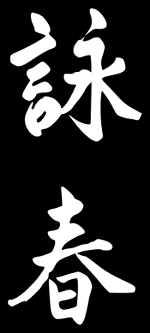 Wing Chun is a close range martial art that was created to help smaller people deal with larger and more powerful opponents. It does this by developing the body's natural structure, which is used for stability and generating leverage and power. Wing Chun, as an art, is simple and direct and goes by the philosophy "quality not quantity," so there are only four forms to learn. Three of the forms are empty hand forms (practiced in the air), and the fourth form is practiced on the Muk Yan Jong (the "Wooden Dummy"). Each of the forms teaches specific lessons, and each lesson builds on the next one until they all come together to form a cohesive style.
In addition to the forms, Wing Chun also uses partner drills to develop a good understanding of important concepts like angles, timing, distance, and sticky energy (trained sensitivity to pressure). Overall, Wing Chun is great for improving one's coordination, reaction time, and mental focus. This makes it a good martial art to learn for self-defense.
Class Info:
Classes meet on Monday and Thursday nights at 8:00pm, and every other Saturday at 2:00pm. The Monday and Thursday classes last for an hour to an hour and a half, and the Saturday classes last for at least two hours. Sifu (teacher) Bishop Lewis teaches at his Kwoon (school) behind his home, and his classes are semi-private, which means he intentionally keeps the size of his class small (under 10 students) so that his students get the most out of the instruction.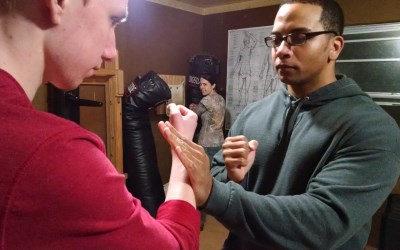 Sifu Lewis teaches serious students only with a good attitude and a willingness to learn. There is a two week trial period where the prospective student trains with the class, and this period serves two purposes. First, the trial period helps the prospective student decide if Wing Chun is the right martial art for them, and second, the trial period gives Sifu Lewis time to get to know the prospective student and their character. If the student is accepted after the trial period, Sifu Lewis expects them to attend all classes (work, school, or emergencies aside) and practice regularly outside of class. Wing Chun is like any other valuable skill--it takes practice and patience to master.
The class dues are $100.00 per month (paid at the beginning of each month) or $500.00 for six months (paid at the beginning of a six month period and saving the student $100.00). There is no uniform or other equipment to buy (students train in comfortable clothes), and no rank testing fees. Sifu Lewis does not use a belt-ranking system. In traditional Chinese martial arts, a Sifu awarded a certificate to a student when they completed learning the system (like a diploma for graduating). Sifu Lewis follows this tradition because he believes that learning Wing Chun is the reward in and of itself.
About Sifu Lewis: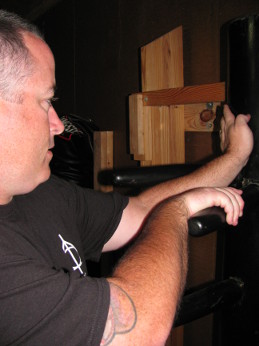 Sifu Bishop Lewis is an Oxford, Mississippi native, and he has a bachelor's degree in English from the University of Mississippi (Ole Miss). He is a veteran police officer of 15 years with the University of Mississippi Police Department. Because of his profession and experience, Sifu Lewis has a very straightforward, realistic approach to Wing Chun.
Sifu Lewis has practiced martial arts for 27 years. He began his training in Shotokan Karate at age 13, and after five years, Sifu Lewis began training in Ngor Chor (Wuzu Quan) Kung Fu. During this time, Sifu Lewis also became friends with his Wing Chun teacher, Sifu Larry Greene. Over the next five years, while Sifu Lewis studied Ngor Chor, he also studied Chinese Kickboxing, Western boxing, Kali, Muay Thai, and Yang Tai Chi. Sifu Greene then taught Sifu Lewis Wing Chun for two years, and after Sifu Lewis decided to focus solely on Wing Chun, Sifu Greene took him to meet his teacher, Sigong (grandfather teacher) Francis Fong, in Atlanta, Georgia. Sifu Lewis continued to learn Wing Chun privately from Sifu Greene and Sigong Fong for several more years, and in 2001, with Sifu Greene's blessing, Sifu Lewis began teaching Wing Chun in Oxford, Mississippi.
Contact LWC:
If you're genuinely interested in learning Wing Chun, and are willing to commit the necessary time, practice, and money, feel free to email Sifu Lewis or call him at: (662) 832-7717 (between 8:00am and 8:00pm).